---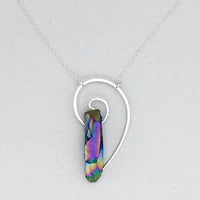 Handmade sterling silver Fibonacci spiral necklace with naturally formed rainbow aura quartz crystals. 
Rainbow aura quartz is a high vibrational stone and is said to help with confidence and removing blockages to creativity and humor.
- Extendable 16"-18" cable chain 
Because each crystal is naturally formed, they may vary slightly in appearance and size from the one in the image.